Chelsea 5 Everton 0: Sensational Blues move top
… Conte builds Chelsea into a blazing inferno as they top the league
This time last year Chelsea suffered their seventh league defeat away to Stoke City, their then-manager banned from the stadium, their team spirit absent without leave and the title defence already over – all of which makes the current transformation even more remarkable.
Top of the league on Bonfire Night and Everton's defence still gently smouldering long after referee Bobby Madeley had called time on what was Antonio Conte's team's third successive league win, with 12 goals scored and none conceded. Led by the incomparable Eden Hazard who punched holes through this Everton team all over the pitch, and scored twice, Chelsea are the form team of the Premier League.
The Blues have returned to the top of the Premier League for the first time since they were crowned champions after another stunning victory at Stamford Bridge.
Chelsea lit up Stamford Bridge on Bonfire Night through the gunpowder in Eden Hazard's boots as they left a strong Everton side smouldering in a pile of ash during a dominant 5-0 victory.
The Belgian scored for a fourth successive league match for the first time in his career to ignite his side, while Diego Costa and Pedro also provided fireworks on a memorable November 5 evening.
When manager Antonio Conte took over the club in the summer after the Blues had endured a miserable campaign, he said he saw a "small flame flickering that can grow into a blazing inferno".
Few would have believed that the Italian's words had any meaning after they were hammered 3-0 by Arsenal at the Emirates Stadium last month. However, a switch in system to a 3-4-3 has revitalised his side, with Hazard and Diego Costa leading the way.
And Chelsea now lead the Premier League after Manchester City faltered at home to Middlesbrough.
Conte has allowed Chelsea fans to dream again and it inspired some of his players to reach new heights. Hazard, reborn as a world-class player with five goals and one assist in his last four games, is a shining example of this.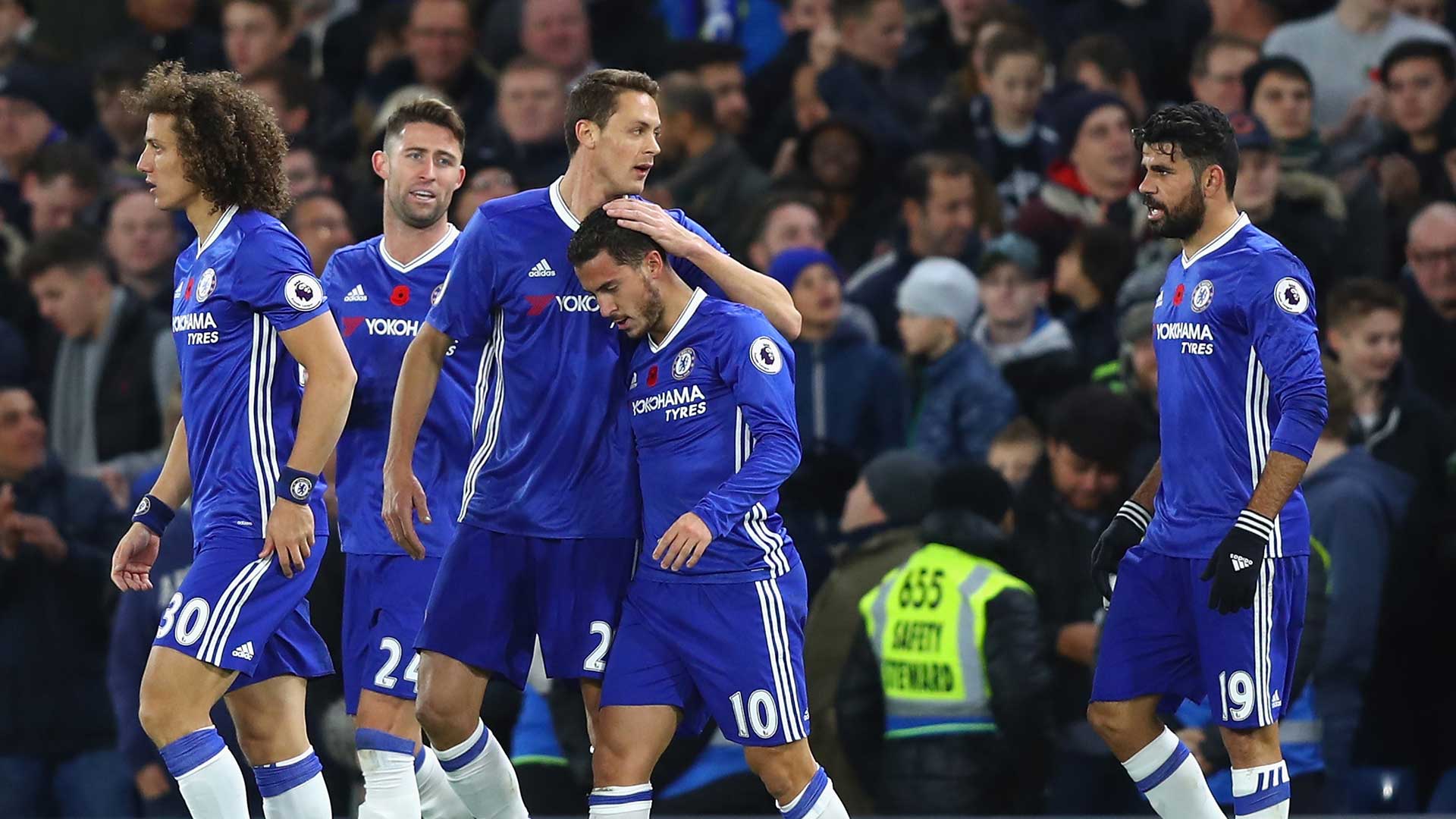 Diego Costa, meanwhile, is once again the league's most effective goalscorer, vindicating the club's decision to sell Romelu Lukaku and place their faith in the Spain international. Perhaps most impressively he proved, once again, that he won't be coaxed into a reaction any longer as he powered on admirably, despite an early challenge from Seamus Coleman leaving him with a bloody sock.
Powerhouse midfielder Nemanja Matic is another figure touching levels not attained since the Premier League was last lifted. He has banished calls for Conte to bring Cesc Fabregas back into the first team by making more assists than he managed in the whole of the previous campaign – only Kevin De Bruyne in the Premier League leads him in this category.
All this has been orchestrated by their maestro in the dugout. Conte's performance on the touchline is comparable to a classical music conductor as he feverishly gives instruction to his players at every moment. He aggressively gestured for Marcos Alonso to get further forward after identifying weaknesses down Everton's right hand side. Shortly afterwards, the former Fiorentina man got his first goal for the club.
Chelsea are predictable but so far unstoppable. Visiting boss Ronald Koeman aimed to match his opponents by instructing his Everton side to mirror their hosts' 3-4-3 system. It failed because the hosts' clever pressing never allowed them to get hold of the ball.
With seven clean sheets in succession, this was a complete performance from the Blues.
At the start of the season, Champions League football was the target for Conte, but such is the manner in which the Italian is fanning the flames at Stamford Bridge, the Premier League title itself is looking an increasingly feasible target.